Dharma is a type of a virus that encrypts your files then displays a message which offers to decrypt the data if payment in Bitcoin is made. The instructions are placed on the victims desktop in the carcinoma24@aol.com pop-up window or the FILES ENCRYPTED.txt text file.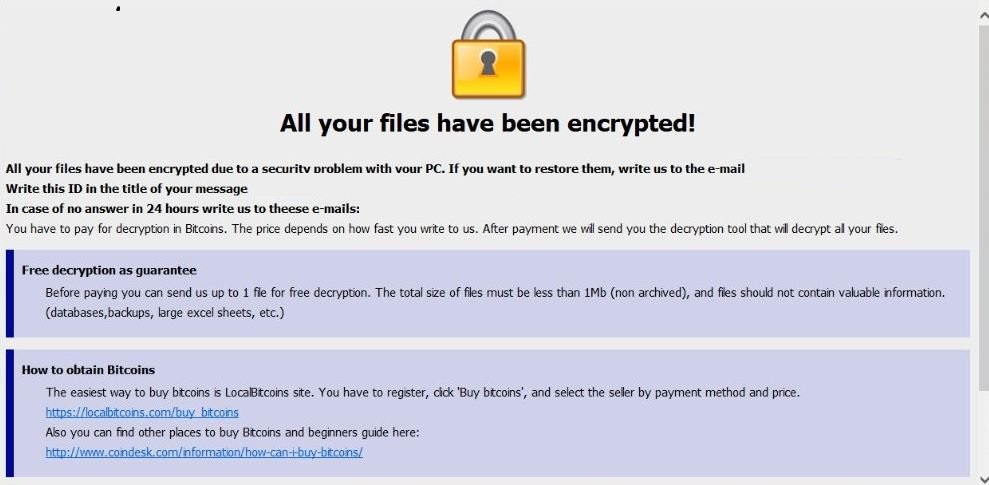 There is no FREE decryption tool available for the [carcinoma24@aol.com].carcn ransomware. However, our company has the computing power
you can try to search these sites for updates:
1. How did the [carcinoma24@aol.com].carcn ransomware get on my computer?
The [carcinoma24@aol.com].carcn ransomware is distributed via spam email containing infected attachments or by exploiting vulnerabilities in the operating system and installed software.
Cyber-criminals spam out an email, with forged header information, tricking you into believing that it is from a shipping company like DHL or FedEx. The email tells you that they tried to deliver a package to you, but failed for some reason. Sometimes the emails claim to be notifications of a shipment you have made. Either way, you can't resist being curious as to what the email is referring to – and open the attached file (or click on a link embedded inside the email). And with that, your computer is infected with the [carcinoma24@aol.com].carcn ransomware.
Dharma ransomware was also observed attacking victims by hacking open Remote Desktop Services (RDP) ports. The attackers scan for the systems running RDP (TCP port 3389), and then attempt to brute force the password for the systems.
---
2. What is [carcinoma24@aol.com].carcn ransomware?
Ransomware family: Dharma Ransomware
Extensions: [carcinoma24@aol.com].carcn
Ransom note: FILES ENCRYPTED.txt
Ransom: From $3500 to $11000 (in Bitcoins)
Contact: carcinoma24@aol.com, carcinoma24@cock.li
This Dharma ransomware variant restricts access to data by encrypting files with the [carcinoma24@aol.com].carcn extension. It then attempts to extort money from victims by asking for "ransom", in form of Bitcoin cryptocurrency, in exchange for access to data.
This ransomware targets all versions of Windows including Windows 7, Windows 8.1 and Windows 10 and Windows SERVER operation system. When this ransomware is first installed on a computer it will create a random named executable in the %AppData% or %LocalAppData% folder. This executable will be launched and begin to scan all the drive letters on your computer for data files to encrypt.
Dharma ransomware searches for files with certain file extensions to encrypt. The files it encrypts include important productivity documents and files such as .doc, .docx, .xls, .pdf, among others. When these files are detected, this infection will change the extension to [carcinoma24@aol.com].carcn, so they are no longer able to be opened.
Dharma ransomware changes the name of each encrypted file to the following format: [carcinoma24@aol.com].carcn.
Files targeted are those commonly found on most PCs today; a list of file extensions for targeted files include:
.sql, .mp4, .7z, .rar, .m4a, .wma, .avi, .wmv, .csv, .d3dbsp, .zip, .sie, .sum, .ibank, .t13, .t12, .qdf, .gdb, .tax, .pkpass, .bc6, .bc7, .bkp, .qic, .bkf, .sidn, .sidd, .mddata, .itl, .itdb, .icxs, .hvpl, .hplg, .hkdb, .mdbackup, .syncdb, .gho, .cas, .svg, .map, .wmo, .itm, .sb, .fos, .mov, .vdf, .ztmp, .sis, .sid, .ncf, .menu, .layout, .dmp, .blob, .esm, .vcf, .vtf, .dazip, .fpk, .mlx, .kf, .iwd, .vpk, .tor, .psk, .rim, .w3x, .fsh, .ntl, .arch00, .lvl, .snx, .cfr, .ff, .vpp_pc, .lrf, .m2, .mcmeta, .vfs0, .mpqge, .kdb, .db0, .dba, .rofl, .hkx, .bar, .upk, .das, .iwi, .litemod, .asset, .forge, .ltx, .bsa, .apk, .re4, .sav, .lbf, .slm, .bik, .epk, .rgss3a, .pak, .big, wallet, .wotreplay, .xxx, .desc, .py, .m3u, .flv, .js, .css, .rb, .png, .jpeg, .txt, .p7c, .p7b, .p12, .pfx, .pem, .crt, .cer, .der, .x3f, .srw, .pef, .ptx, .r3d, .rw2, .rwl, .raw, .raf, .orf, .nrw, .mrwref, .mef, .erf, .kdc, .dcr, .cr2, .crw, .bay, .sr2, .srf, .arw, .3fr, .dng, .jpe, .jpg, .cdr, .indd, .ai, .eps, .pdf, .pdd, .psd, .dbf, .mdf, .wb2, .rtf, .wpd, .dxg, .xf, .dwg, .pst, .accdb, .mdb, .pptm, .pptx, .ppt, .xlk, .xlsb, .xlsm, .xlsx, .xls, .wps, .docm, .docx, .doc, .odb, .odc, .odm, .odp, .ods, .odt
Once your files are encrypted with the [carcinoma24@aol.com].carcn extension, the [carcinoma24@aol.com].carcn ransomware will create the FILES ENCRYPTED.txt file ransom note in each folder that a file has been encrypted and on the Windows desktop.
When the infection has finished scanning your computer it will also delete all of the Shadow Volume Copies that are on the affected computer. It does this so that you cannot use the shadow volume copies to restore your encrypted files.
---
3. Is my computer infected with [carcinoma24@aol.com].carcn Ransomware?
When Dharma ransomware infects your computer it will scan all the drive letters for targeted file types, encrypt them, and then append the [carcinoma24@aol.com].carcn extension to them. Once these files are encrypted, they will no longer able to be opened by your normal programs. When this ransomware has finished encrypting the victim's files, it will create a carcinoma24@aol.com pop-up ransom note and FILES ENCRYPTED.txt text file which include instructions how to recover the files.
This is the message that the carcinoma24@aol.com pop-up window will display:
All your files have been encrypted!
All your files have been encrypted due to a security problem with your PC. If you want to restore them, write us to the e-mail carcinoma24@aol.com
Write this ID in the title of your message
In case of no answer in 24 hours write us to these emails: carcinoma24@aol.com
You have to pay for decryption in Bitcoins. The price depends on how fast you write to us. After payment we will send you the decryption tool that will decrypt all your files.
Free decryption as guarantee
Before paying you can send us up to 1 file for free decryption. The total size of files must be less than 1Mb (non archived), and files should not contain valuable information. (databases,backups, large excel sheets, etc.)
How to obtain Bitcoins
The easiest way to buy bitcoins is LocalBitcoins site. You have to register, click 'Buy bitcoins', and select the seller by payment method and price.
https://localbitcoins.com/buy_bitcoins
Also you can find other places to buy Bitcoins and beginners guide here:


Attention!
Do not rename encrypted files.
Do not try to decrypt your data using third party software, it may cause permanent data loss.
Decryption of your files with the help of third parties may cause increased price (they add their fee to our) or you can become a victim of a scam.
all your data has been locked us
You want to return?
write email carcinoma24@aol.com
---
4. Is it possible to decrypt files encrypted with the [carcinoma24@aol.com].carcn ransomware?
YES, Fast Data Recovery in the recovery of most types of ransomware without paying the ransom. Victims may be tempted to purchase it and pay the exorbitant fee. However, doing so will encourage these criminals to continue and even expand their operations. In most cases its highly unlikely you will get your files by paying criminals.
We strongly suggest that you do not send any money to these cyber criminals, and instead address to the law enforcement agency in your country to report this attack.
For a list of the law enforcement agencies, click here 
You can try to search the below sites for a decryption tool for this ransomware:
---
5. How to remove the [carcinoma24@aol.com].carcn ransomware (Virus Removal Guide)
Please talk to one of our friendly staff and we will be ale to assit you with removing the ransomwrae from your system and further prevent your system from similar attacks
When the process is complete, you can close HitmanPro and continue with the rest of the instructions.
---
How to prevent your computer from becoming infected by [carcinoma24@aol.com].carcn ransomware
To protect your computer from the [carcinoma24@aol.com].carcn ransomware, you should always have an antivirus installed on your computer and always have a ransomware proof backup for your business data.
---